Today we bring you Vacmaster VP215 vacuum sealer review.
The essential element to consider when picking the most refined vacuum sealer is how effective it is. If you require quick, quiet, and exceptional performance, we know that choosing the right vacuum sealer is critical.
That's why you should consider buying a Vacmaster VP215 Vacuum Sealer this time. The VacMaster VP215 Vacuum Sealer is well-liked by home appliance customers, but it's also robust and durable enough for small restaurants and other light commercial applications.
First, this article will discuss some basic but essential information concerning the Vacmaster VP215 Vacuum Sealer. How does the Vacmaster VP215 Vacuum Sealer work? It is included in the article. Continue reading to learn more about the Vacmaster VP215 Vacuum Sealer…
This sealer employs a different technology. The vacuum bag that is used to seal is placed inside the machine's chamber, and the lid is closed when sealing with our chamber machine.
The entire chamber, not just the bag, is sucked out of the air, allowing air pressure on both the inside and outside to remain equal for liquids to stay in the bag. After that, the bag is shut, and the air is retained into the chamber machinery for packaging.
Vacmaster VP215 Vacuum Sealer- Overview
This chamber vacuum sealer incorporates a rotary oil pump. It creates consistent, trustworthy seals that can handle solids or liquids and run continuously without requiring a remarkable down period between bags. Periodic maintenance is needed for the oil pump, but it is not difficult.
Otherwise, this model is nearly identical to the VacMaster VP210, so read through all of the data below to choose the best machine for you.
Ideal For:
Maintaining the freshness of game, meat, fish, fruits, and vegetables for a more extended period

Soups, stews, and marinades are vacuum packaged.

Eliminating food waste in large volumes

Keeping meats and seafood odor-free

Perfect for sous vide cooking.
Also read: How good is Vacmaster VQ607SFD
Size and Capacity of Vacmaster VP215
Dimensions and capacity

Outside dimensions: 20′′ wide × 14′′ deep x 15′′ tall

11.25 x 15.25 x 5 inch inside measurements

The inner capacity allows for pouch sizes up to 10 x 13 inches to be processed.

84-pound weight
This is, without a doubt, a substantial appliance. Don't forget about overhanging cabinets when planning where you'll put them. The height listed above is for the closed device, so make sure you have adequate room to open the lid.
It's also quite hefty, making it difficult to move for most individuals. You should think about putting it somewhere permanent. Another option is to put it on a rolling cart, perfect if you have some extra kitchen floor space or a nearby pantry or storage room.
Also read: Is VacMaster VP210 truly an excellent choice?
Buy on Ubuy
Vacmaster VP215 Vacuum Sealer – Specification
SPECS
Here are some of the specifications that come along with the Vacmaster VP215 Vacuum Sealer
14 Inch Width

20 Inch Depth

15 Inch Height

10 1/4 Inch Seal Bar Length

11 1/4 Inch Chamber Width

15 1/4 Inch Chamber Depth

5 Inch Chamber Height

4.2 volts 4.2 volts 4.2 volts 4.2 volts 4.2

The frequency is 60 Hertz.

The first phase

The voltage is 110 volts.

462 Watts of power

1/4 HP Horsepower

The number of seal bars is one.

NEMA 5-15P plug type

Electricity source

Pump Oil

Style Chamber

Manual Vacuum Packaging Machine
Here's What Comes With the Vacuum
There are no particular accessories for the unit because none are required. Instead, you'll discover a couple of useful tools (available separately): The VacMaster Prep Plate, for example, allows you to fill pouches without contacting the food and keeps them dry for a good seal.
The VacMaster Multi-Ring Bag Stand, on the other hand, holds pockets upright and open for more straightforward filling while also keeping the bag sealing area dry.
Bone Guard Sheets from VacMaster Vacuum Packaging is another option. These 4.5 by 5 inch sheets are six mils thick and help protect food pouches from punctures. These are especially useful if you're working with many fish or other meals that have sharp bones.
Also read: Very Shocking expert testing of Vacmaster Armor AA255
Vacmaster VP215 Vacuum Sealer-Features
 Stainless steel construction – For a longer-lasting and more sturdy product.

Anyone may use the digital control panel because it is straightforward to operate.

Watch the suction process with an easy-to-read pressure indicator.

Fully automatic – This allows for faster vacuum packaging.

Heavy-duty lid with a see-through window

10 in a seal bar is easy to remove and helps with cleanliness.

To achieve a strong, complete, and lasting closure, the seal bar has two seal wires.

Cycle time: 20-40 seconds – Quick and efficient operation

For good and professional results, use a 1/4 HP heavy-duty pump.

Manufacturer's 1-Year Limited Warranty

75 different sized chamber pouches

2 Plates of Filler

User's Manual

Kit for Upkeep (for oil pump)
When processing lesser amounts of food, filler plates are employed. They fill the space inside the chamber, reducing the amount of air that must be evacuated. This decreases the value of time it takes for the food to be processed.
You can obtain the user's handbook here if you want to check over the owner's manual before you buy. An empty oil container with a spigot and 1/2 quart of VacMaster machine oil is included in the Maintenance Kit. It should also have a Phillips head screwdriver, but you'll need an adjustable wrench in addition.
Buy on Ubuy
Vacmaster VP215 Vacuum Sealer – Pros and Cons
PROS
1. Helps You Save Time
Packaging the amount you'll need for each dish will save you time. We usually store food in the refrigerator after vacuum-sealing it by using the vacmaster VP215 and use it in turn. So, if you vacuum seal a different section of your items in distinct bags, you'll save time later on when you need it.
2. Cost-effective: It helps you save money
 Vacmaster VP215 Vacuum sealing allows you to store food for an extended period, which can save you money. Meat, for example, can be purchased in bulk for a lower price than if purchased repeatedly. As a result, vacuum sealing saves money.
3. Food is Preserved in Vacmaster VP215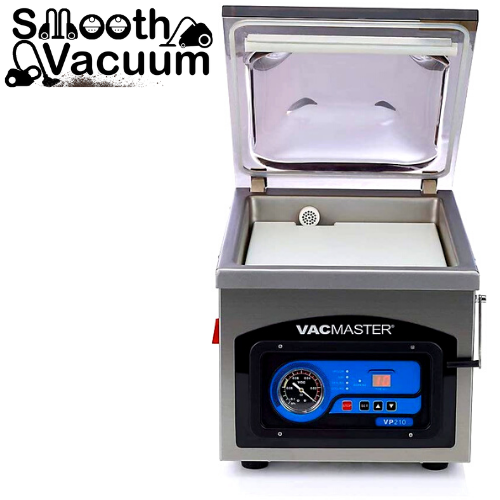 VP215 Vacuum sealing has one particular benefit: it preserves goods and their characteristics. So we can all agree that this technology can keep food without more explanation. The vacuum is devoid of any sense of air. As a result, there's a slim probability of rotten vegetables.
4. Food Safety and Security
Products that are vacuum-sealed by Vacmaster VP215 vacuum sealer are adequately protected. They are not at risk of being burned or having their shape altered by freezing. A vacuum bag also ensures that no water comes into contact with the food within. It's a full-fledged food safety package.
5. Longer Shelf Life
The food within has a considerably longer shelf life, thanks to the vacuum. According to statistics, food in a vacuum-sealed bag lasts 3 to 5 times longer. But, of course, depending on where you store vacuum-sealed food, the number will vary.
6. Possibilities for Simple Organization
Easy storage solutions are included with vacuum-sealed products. You'll be able to store food anywhere you want – pantry or freezer – because it'll be sealed securely in little, easy-to-carry bags.
7. Keep the Flavor
Foods that have been vacuum-sealed by vacmaster VP215 vacuum sealer are not exposed to air or moisture. As a result, the flavor, texture, and inner moisture are all precisely maintained, ensuring long-term freshness. In these bags, the nutritional content is also supported.
8. Concerns About Safety
Food that has been vacuumed is free of dangerous organisms like viruses, germs, and mold. As a result, it's safer than usual. However, how nutritious are vacuum-sealed foods?
When you regularly preserve food with cans or other ways, there's a considerable risk of bacteria or fungi that flourish in a dark, moist environment infecting your food.
9. No Other Ingredients Are Required
It's as natural as it can when it comes to vacuum sealing by vacmaster VP215 vacuum sealer. It doesn't necessitate the use of any chemical additives. As a result, you're safe from toxic chemicals as well as additional spending on them. Also, the flavor doesn't change.
10. Marinating in a Healthier Setting
If you're marinating your meat, vacuum wrapping is the way to go. You can use more herbs and spices without the rest of the world interfering with your taste buds. You can seal the moisture and original flavor in the vacmaster VP215 vacuum sealer.
11. Resealing
After all that discussion about calculating wastage and preparing food menus and so on, you may only require a portion of a vacuum-packed meal when you open it. But don't worry; you can reseal the bag and save the remainder of your meal.
12. Forget Freezer Burn 
Your food is free of water other than its own since it is protected from moisture and water in the air. In addition, in a vacmaster VP215 vacuum-sealed environment, the crystal that can cause freezer burn cannot develop. Therefore, you won't have to worry about freezer burn if you keep your food vacuum-sealed.
Buy on Ubuy
CONS
1. Bacteria That Live in Anaerobic Conditions
One of the most well-known advantages of a vacuum packaging technique is that it keeps out air, mainly oxygen, preventing aerobic germs from growing and ensuring that the food is safe for as long as it is not opened.
However, there exist anaerobic bacteria that flourish in an oxygen-depleted environment. So, if you don't keep your food clean, vacuum packaging ensures that your food is poison-free.
2. It's Important to Remember Not to Crush It
Vacuum sealing requires sucking all of the air out of the bag. The air will be sucked out of the bag using a suction pump.
The food within is subjected to pressure throughout this process, and if not carefully managed, the food may lose its original integrity and be crushed. So, instead of using the vacuum option or not vacuum crushable sealing items, look for other options.
Also read: Is Stanley Wet Dry worth buying?
FAQ
What Effect Does Being at a High Altitude Have on the Vacuum Sealing Process?

The performance of a vacuum sealer varies depending on where you can use it. For example, vacuum sealers cannot remove air from the sealing process at higher elevations, where air pressure is less dense. High-pressure conditions are critical for the sealer's compressor to function correctly, and if there isn't enough pressure, you may notice a weaker vacuum.

Is It Possible to Use This Equipment for Retort or Mylar Packaging?

These vacuum packing equipment are not for the use with a retort or mylar packaging; instead, for the best results, we recommend choosing from the large assortment of vacuum packaging bags! In addition, to safely seal food in retort and mylar packaging, specific plastic and foil laminated pouches are required.

How Can We Know if a Vacuum Cleaner Bag Will Fit Our Machine?

Is It Possible to Use Mason Jars in a Vacuum Packaging Machine?

Yes, you can place the mason jar in your machine if it fits. It is not, however, a replacement for canning.

When We Can Change the Oil in Our Vacmaster VP215 Chamber Vacuum Sealer?

After the first 25 hours of use, the oil should be replaced. Following the initial oil change, the oil can replace every 60 hours of operation. If the oil becomes dark brown or white and milky in appearance, you can replace it.
Final Verdict 
THE FINAL ADVICE
The VacMaster VP215 Chamber Vacuum Sealer is an excellent option for both home and light commercial vacuum sealing. It is simple to use and operate, durable enough to withstand batch processing without overheating.
It's excellent for solids, liquids; sous vide packaging, and many other home tasks and storage options. The rotary oil pump does require some maintenance, but it allows you to use the machine for more extended periods without having to stop. It may also extend the unit's life.
Also read: What's so fabulous about Vacmaster Professional Wet/Dry?
Buy on Ubuy