Ever heard about wet/dry vacuum cleaners? You might have, but are you sure that you have a correct idea about how it would fit the needs of your home? 
In the homes of some of us, messes don't happen in defined categories. You might encounter a mix of broken glass as well as the liquid contents that used to be once inside it or tracked-in wet leaves along with dust from your demo project.
Cleaning all that with a simple vacuum cleaner doesn't seem possible, and you definitely need a wet/dry vacuum cleaner if you really want to eliminate the hassle.
Wet-dry shop vacs very well deal with these sorts of messes.
Many folks don't know much about wet-dry vacs, maybe, not even the fact that these are also called shop vacuums. It's so because such models aren't a common piece of our home cleaning equipment yet.
Stanley wet/dry vac is an amazing model available at below $80, and after knowing several positives of it, we decided to review it in May 2021.
Yes, it's definitely worth purchasing, and here, we start explaining to you the reasons and also share the reports.
Also read: Is Vacmaster VP215 truly an excellent choice?
Credit: WheeNC Tech Sell & Repair
Review of Stanley Wet Dry Vacuum
Accessories 
1-1/4-Inch by 5-Feet flexible hose

three extension wands

floor brush

utility nozzle

foam filter
Buy on Ubuy
Specifications

 
The powerful multi-functional vacuum cleaner has versatile specs, which are described below:
| | |
| --- | --- |
| Tank capacity  | 4-gallon  |
| Airflow CFM  | 70  |
| Sealed pressure (inches of water)  | 60  |
| Power cord length  | 10 feet  |
| Hose length  | 5 feet  |
| Swiveling Casters | Yes  |
| Dimensions  | 12.8 x 12.5 x 24.5 inches |
| Product weight  | 8 pounds  |
| Color variants  | Silver and yellow  |
| Material  | Stainless steel  |
| Voltage  | 120 volts  |
| Sound level  | 80 dB  |
| No of handles  | 02 |
| Wheel  | Yes  |
| Manufacturer warranty  | 1-Year  |
How Did Stanley Wet Dry Vacuum Perform in Our Testing?
Our expectations weren't at the peak (as we were testing $500+ Roomba models before that and were thrilled), but yes, we knew that Stanley's model is powerful.
There was much to say about the motto itself. You can't even expect such a trustful motor in a wet/dry vacuum costing below $100!
Also read: Very Shocking expert testing of Vacmaster VQ607SFD
1. Suction
The motor is of 4 horsepower, and it delivers an amazing power to the appliance. That's the reason this vacuum is able to suck that well. It performs well on both dry and wet substances. 8 feet is the maximum suction distance, and you can imagine the ease of cleaning intricate spots.
2. Maneuverability
Weighing 8 Pounds and measuring 12.75 x 24.5 x 12.5 inches, maneuverability never seems an issue with Stanley Wet Dry Vac.
Neither you'll face even a bit of issue while cleaning it, nor while carrying it from place to place. 4 swivel casters offer convenient multi-direction maneuverability, and these are pretty smooth.
Buy on Ubuy
3. Durability
Staying honest, we won't explain that Stanley Wet Dry Vac is something that would last a decade, but yes, construction is much better than several competing Wet Dry Vacs out there. That's the reason it lasts for years if the maintenance is alright (it doesn't even require much, though).
4. Easy of Use
10-Feet power cord proves to be long enough and cord, and it's a cord wrap design. Not just easy to use, but it's easy to store as well. Safety Buoy Technology is there, which automatically powers off to protect the motor when the water level reaches the standard. Not just that, the built-in storage adds to the convenience.
5. Versatility
The performance of this vacuum is appreciable for both wet and dry mess equally, and an under hundred dollars vacuum cleaner cleaning wet mess so cleanly is truly pleasing.
For carpet and upholstery, this model is not the ultimate best, but it will deeply please you.  Yes, you can clean your cars or truck with it without damaging a thing.
What Are The Benefits That You Get With STANLEY VACUUM?
The durable vacuum cleaner has many interesting and amazing features, which are listed below: 
6. Multi-Functional Vacuum Cleaner
The vacuum cleaner comes up with a dual function where you can easily use the appliance as a wet or dry vacuum and is ideal for wet and dry pickups in your home, garage workshop, or vehicle.
The appliance works best for both situations, easing and giving you comfort in all the ways you desire your vacuum to be.
Buy on Ubuy
7. Capacity
One of the main issues of vacuum is their capacity and the discomfort to, again and again, empty the dirt from the tank but now with this amazing cleaner, you don't need to worry as it comes up with a 4- gallon capacity, making it convenient for you to easily clean your room without cleaning the tank in the middle of your cleaning process. 
8. Powerful Motor
With its amazing 4hp horsepower, despite its amazing suction power, the powerful motor ensures sucking all the dirt, debris, stains, or anything that has stuck to your carpet, you name it, and this cleaner would wipe it all, making your carpets or rugs appear brand new.
9. Power Cord
Having a short length of power cord makes it difficult to move the cleaner around the room and easily clean as you have to change the power outlet and clean. That makes it difficult to reach every space.
However, this cleaner comes with 10 feet of power cord, and 5 feet hose length, allowing you to reach even in odd places where standard vacuum cleaners won't easily fit. 
10. Compact and Lightweight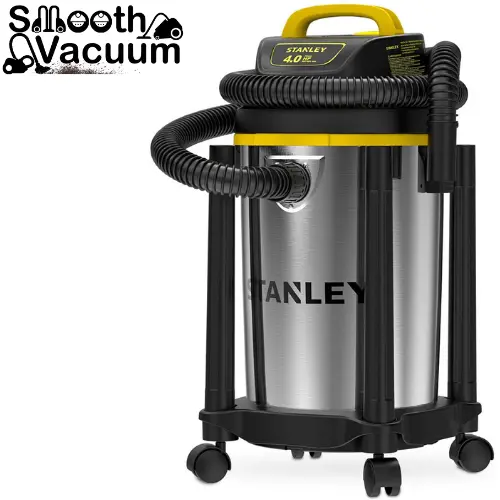 Being compact, lightweight, and having a sleek design, you can easily carry your vacuum cleaner around the room without many problems as it has wheels to easily move it around your garage or anywhere you want it to go.
Buy on Ubuy
Moreover, with its stainless-steel design and silver or yellow color variants, it looks dashing and enhances the beauty of the cleaner. 
11. Safety Features
The appliance is equipped with safety buoy technology that protects your appliance from burning up, and protects the powerful motor when the water level reaches the maximum level.
12. Warranty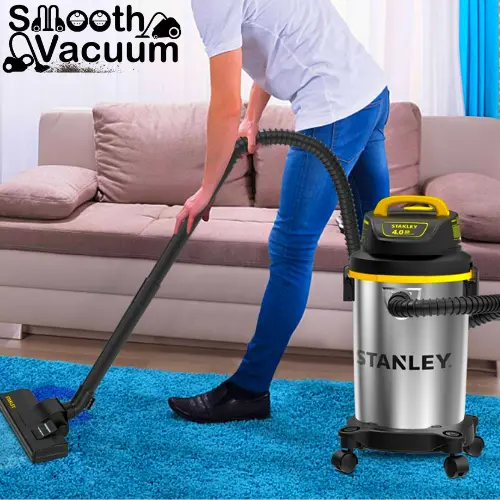 The vacuum cleaner is very easy to use and operate, as it has very simple controls and is easy to carry anywhere. It has a one-year manufacturer warranty where you can easily replace or repair your cleaner if it malfunctions. 
Ideal Places to Use the Vacuum Cleaner
| | |
| --- | --- |
| Floor Cleaning | Gives the best performance while cleaning the floor  |
| Wet Cleaning | Highly useful for cleaning wet floors.  |
| Carpet Cleaning | Stanley cleaner removes all the dirt and debris from the carpets  |
| Upholstery Cleaning | Works best on upholstery and sucks all the dirt particles  |
| Pet Cleaning | Your pets are dirty, you can use the cleaner to wash them out.  |
| Car Cleaning | Cleans and sucks all the trash in your car  |
Also read: Is VacMaster VP210 worth buying?
5 Reasons to Buy the Stanley Vacuum Cleaner
This vacuum cleaner has a powerful motor of 4hp, giving you the ease of both wet/dry vacuuming around the house.

Well-designed with a nice base and 4 360-degrees castors, making it easy to handle. 

The hose does not have a large diameter as other vacuum cleaners, making it easy to use and get into places where large models cannot fit. 

Greater look as it is made up of stainless steel and has wheels to easily carry it around. 

With the latches, both the top and bottom can be locked into place firmly, and they are easy to handle without too much effort.
PROS
Compact and light-weight 
Power cord length and hose length 
Large capacity 
1-year manufacturer warranty 
Easy to operate 
Easy to carry 
Powerful 4hp motor 
Affordable 
Dual working (wet and dry vacuuming) 
CONS
Due to the high size and power of the motor, the appliance creates a lot of sounds, you have to wear earplugs and operate the machine.
Buy on Ubuy
Also read: What's so fabulous about Vacmaster Armor AA255?
Safety Precautions for Using the Vacuum Cleaner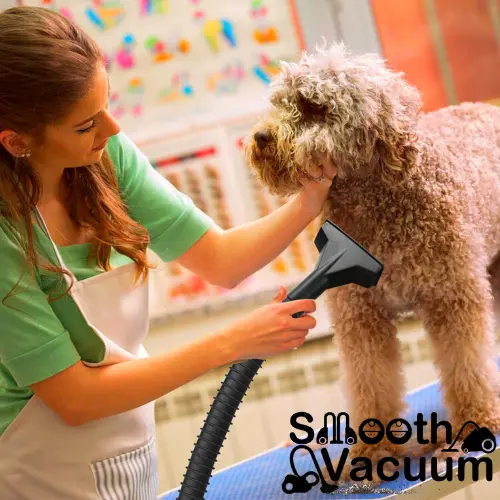 If the appliance is plugged in, do not leave it. Before servicing, unplug it from the outlet. Make sure the outlet is properly grounded.

Do not expose the appliance to rain. Store indoors.

When used near or by children, close attention is necessary.

If the cord or plug is damaged, do not use it. Contact a service center if your appliance is not working as it should, has been dropped, damaged, left outdoors, or has been dropped into water.  

No objects should be placed in openings. Keep free of dust, lint, hair, and anything else that may impede airflow; do not use if any openings are blocked.  

Do not pick up anything that is burning or smoking, such as cigarettes, matches, or hot ashes.

Use caution when picking up flammable or combustible liquids, such as gasoline, or in areas where such liquids may be present.  

You should not pick up drywall dust, cement dust, plaster dust, or soot without a dust bag and filter. The particles may affect the performance of the motor or be expelled into the air again.   

Use special care when emptying heavily loaded tanks.
[/su_box]
Buyer's Guide
Before buying a dry/wet vacuum cleaner, you should take the following factors into consideration and help yourself to buy the best product according to your needs: 
1. Weight
A wet/dry vacuum has an unmatched level of versatility, and it can pick up much more debris than a traditional vacuum. These features come at a price, however. Wet/dry vacuums are usually heavier and bulkier than a standard vacuum, so make sure you check their weight when you purchase them.
It's also important to factor in the weight of the dust, dirt, and junk you'll be picking up. Make sure you're comfortable handling the weight.
2. Power and Size
When choosing a wet/dry vacuum, two important specifications should be considered: horsepower (HP) and tank capacity (gallons). Suction power is measured by horsepower, while tank capacity is determined by how much waste the vacuum can hold before it needs to be emptied.
3. Portability and Storage
Considering the size and weight of a full tank is important if you plan to carry it up and down stairs regularly in your home. Look for a model with a small tank and a place for all the attachments on the body so you can move everything at once.
4. Hose and Power Cord
Make sure the vacuum's hose and power cord are long enough. For larger areas, you'll need a nice long cord, unless you want to stop every few minutes and find a new outlet. It is best to use a 12-foot extension cord for larger rooms, while a six-foot extension cord is easy to store and is perfect for small jobs.
5. Accessories
Wet/dry vacuums come with a variety of accessories so that you can make the most of your investment. The fully equipped wet/dry vacuum will include a brush, a crevice tool, a detail brush, and a deluxe car nozzle.
That's a great choice for cleaning your car. Others will come with multiple extension wands, so you can reach every corner of your room.  
Buy on Ubuy
6. Filter Size
The wet/ dry vacuum cleaners come with a filter, and their size is very important to measure while buying one; it's very useful to consider the debris size and install the appropriate filter. They're available from 'fine' to 'large' and 'wet' for damp environments. 
7. Maneuverability
The easy movement of a wet-dry vacuum will reduce your frustration and let you finish your cleaning job quickly, easily, and comfortably. Their mobility is greatly improved by their wheels. So a vacuum cleaner having wheels is more advisable. 
8. Noise
It is not intended that the vacuums have low decibel ratings. Generally, vacuums are louder when they are running. You should look for a model that is specifically designed for indoor use if you intend to use this cleaner indoors. Additionally, models that require more power will create a louder sound.
FAQs
What is the use of a filter and when to remove it?

The filter prevents dust from spreading out in the air, and while cleaning wet surfaces, you should remove the filter.

Can we use the cleaner to clean the interior of the car?

Yes, the small-diameter hose is very flexible, easy to use, and reaches small places in the car.

Is the caster base removable?

No, the caster base is affixed to the canister.

Can this vacuum be used at 220 volts?

No, it is designed and wired for 110 volts only.

Which filter should I use for wet pickup?

The best filter to use for a wet pickup is a foam sleeve. When picking up water containing debris, such as glass, stone, etc., you may want to consider adding a tear-resistant wet dry collection bag.

What if there is a loss of suction?

It may occur due to tanks not being properly seated, the dirty tank being filled with maximum dirt, or the water tank being empty. To regain suction, reseat both of the tanks, empty the dirty tank or check the levels in the water tank.
Also read: Get shocked by reading Vacmaster Professional Wet/Dry review!
The Verdict
THE FINAL ADVICE
If you are still confused about which portable cleaner to buy then, STANLEY VACUUM is the one you want to buy, meeting all your desired criteria.
The vacuum cleaner gives you one in two functions, with this multi-operational appliance you can use two functions of wet and dry vacuuming, being almost weightless as compared to other standard cleaners it is compact and easy to use and operate. 
In addition to all these amazing features it has wheels making its mobility higher and easy to carry anywhere. It's equipped with a 4-gallon capacity tank that can suck all your dirt and give you the best of results.
With a 4hp motor, it has a powerful suction mechanism, removing all the debris you want to remove. Being affordable and durable the device is boxed with certain other accessories giving you all the pleasure you need while cleaning.
Moreover, it comes with a one-year manufacturer warranty that gives you the option of repairing or replacing if the appliance malfunctions. This multi-functional cleaner is an appliance you want, and when it comes to affordability, it's at the top. 
Buy on Ubuy