If you are in search of a vacuum cleaner that cleans not only your sweet house but also your pet's hair with ease, then Shark ZU632 Rotator can prove one of the best options for you. It's a powered lift-away vacuum cleaner manufactured by Shark ninja that can be used for cleaning the hard floor, carpets and pet hair. 
You might wonder what makes this Shark Rotator special among a variety of vacuum cleaners available in the world. Then let's take a small tour of the features and the benefits the Shark Rotator vacuum cleaner is providing to us.
Also read: Is Shark Apex Duoclean worth buying?
Also read: What's so fabulous about Shark ZU561 Navigator?
Accessories and Specifications of Shark ZU632
Credit: VacuumAdvisor
The Shark vacuum cleaner weighs around 16.2 pounds, which proves to be a lightweight device that can be easily handled by us, making cleaning tasks much easier. 
Let's have a look at the components that are being accompanied along with the Shark Rotator.
SPECS
The 15.5 x 12 x 46.2 inches vacuum rotator

A pet crevice tool

Pet multi-tool

A large-capacity dust cup

Self-cleaning brush roll
Now let's move forward to the many exciting features being provided by this versatile machine.
Also read: Why are buyers crazy about Shark NV752?
Features of Shark ZU632 Rotator
1. 3-Modes of Operation
When considering buying a vacuum cleaner for cleaning the home, we make sure that the particular vacuum cleaner can clean every corner of our sweet house. Whether it's about cleaning the carpets or having access under the deep corners of our furniture.
And that is the special thing that the Shark Rotator is taking care of as the Shark Rotator vacuum cleaner operates in 3 different modes. 
The powered lift-away mode allows you to lift off the pod and reach under the furniture for extended cleaning of the furniture. The above-floor mode allows you to clean the furniture, windowsills and other such areas above the floor. And through upright mode, you can deep clean your carpets by hair wrapping.
2. Anti-Allergen Complete Seal
Many times, even after deep cleaning the house through the vacuum cleaner, some sort of dust and allergens are left. But this problem will not occur in the case of the Shark zu632 Rotator.
Thinking about it? Then the Shark rotator contains an anti-allergen complete seal which can capture 99.9% of dust and allergens and prevent them from escaping back into the air you breathe.
3. LED Lights of Shark ZU632 Rotator
We all have seen the headlights equipped with the vehicles in their front. These headlights acknowledge the drivers about any obstacles coming their way. Similarly, the Shark ZU632 Rotator comes with headlights on the nozzle, which reveal the hidden dust particles around your home.
4. Advanced Swivel Steering
The Shark rotator accompanies an advanced swivel steering that allows outstanding control when maneuvering around furniture and other house areas.
Now, after having a tour of the exciting features of the shark rotator, it's time to know the advantages/disadvantages of Shark ZU632 Rotator.
Also read: How is Shark DLX- NV71 attracting these many buyers?
Buy on Ubuy
Pros and Cons of Shark ZU632 Rotator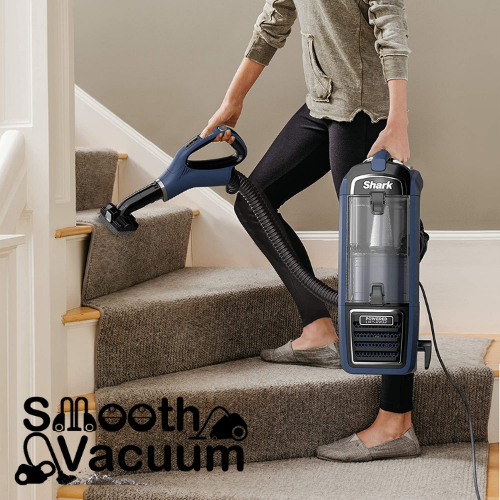 PROS
1. Easy Cleaning of Under Furniture Area
It provides a powered lift-away through which it can detach the pod, which allows extending of nozzle for deep cleaning of under furniture.
2. Large Dust Collecting Capacity
The dust cup in the Shark rotator has a large dust collecting capacity, due to which long cleaning sessions can be completed with no kind of interruption like well known vacuum Shark Navigator Swivel Pro.
3. No Hair Wrap
The Shark rotator vacuum comes along with a self-cleaning brush roll, which can remove long hair and pet hair with no kind of hair wrap.
4. Easy to Operate
One can enjoy a smooth cleaning process through the Shark upright vacuum as the fingertip controls in the upright vacuum cleaner allow it to switch easily from hard floor to carpet mode with little hassle.
CONS
So, it might be overjoying you to see these many advantages of this device and may buy this amazing vacuum cleaner, but before going for this product, there is a minor disadvantage of this product which one should know. So, let's have a quick view of the disadvantages. 
It is mostly used for cleaning the hard floors, carpets and furniture only. Thinking of using it for other cleaning purposes may damage the vacuum cleaner. 
But it can be the perfect choice for cleaning hard floors, carpets and your pet's long fluffy hair. So, we can neglect this minor disadvantage of the Shark vacuum cleaner in terms of the significant benefits it is providing to us. 
Now one question that might tickle in your mind is how to use this machine. So, let's have a glimpse of its usage.
Also read: These testing results of Shark LA502 Rotator will shock you!
How to Use Shark ZU632 Rotator?
Start it up by selecting hard floor or the carpet mode through its fingertip controls.

Then, set the mode of operation you need out of the 3 modes of operations available: powered lift-away mode, above-floor mode or the upright mode.

Once it operates, start enjoying having a smooth cleaning session at your home.
What Our Testing Experience has to Say About Shark ZU632 Rotator?
1. Suction Power
Shark ZU632 has a suction power of 1150 Watt with a 9.5 Amp motor, due to which it can clean even the deepest corners of the under furniture area.
2. Maneuverability
Because of the advanced swivel steering, we can have superb control while maneuvering around the furniture and the other areas. So, we can say that the Shark rotator has good maneuverability.
3. Lightweight
It weighs only 16.2 pounds, which proves to be a lightweight device due to which we can handle it much more easily. 
Frequently Asked Questions For Shark ZU632 Rotator
Now, before buying the Shark ZU632 rotator, lots of questions might juggle in your mind. But we answer all your questions.
What are the dimensions?

The dimensions of this machine are 15.5 x 12 x 46.2 inches.

What is the weight?

This vacuum cleaner weighs around 16.2 pounds. It;s lighter than its competitors.

Does the Shark rotator require batteries to operate?

No, it does not require any batteries for functioning, which is a good advantage of the Shark rotator ZU632.

Can I use the Shark rotator to remove my pet's extra-long hair?

Yes, this vacuum cleaner can remove your pet's extra hair.

What is the form factor of this vacuum?
Expert's Thoughts on Shark ZU632 Rotator
THE FINAL ADVICE
So, after going into the world of this vacuum, it will become difficult for you to come out of this amazing tour because of its extraordinary features. Its self-cleaning brush roll, large capacity dust collector and 3-mode operation make it a must-buy product for everyone. So, check this amazing Shark ZU632 rotator on Amazon for smart cleaning of your home.
Also read: What did we find superb about Shark NV501?
Buy on Ubuy